Recovering
data always becomes one of the most difficult, urgent, crucial and impossible task most of the times. If you have been trying to
recover deleted emails
in Hotmail account, then here is some help for you.
Regardless the fact that you have deleted any mail intentionally or unintentionally, you can
recover
it. I am not
restoring
it back from deleted folders which aint recovering in any sense. Microsoft understands this need, and this is the reason they have come up with this special feature of recovering deleted mails in Hotmail.
Steps To Recover Deleted Mails In Hotmail Account
First thing you need to do is obviously log in to your Hotmail account.
Now at the left panel, click on the Folders section and there, click on the Deleted folder. There you canrecover the mails if you have not deleted them permanently. But obviously, you knew this.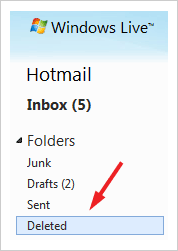 If you could not find your email there, just scroll
down and
look for the link labelled as
Recover deleted messages

.
Just click on it.
Once you click on it, it would start recovering the mails which have been deleted permanently. And the time taken by it truly
depends
on the number of mails it is recovering.
And all the recovered emails get stored in Deleted mails folder. You can
tick
for all the mails that you want to restore and click on the recover / restore button. That is it!
Yes, this feature is not offered by every email service. But if you have been using Hotmail, then this guide to recover mails in Hotmail account would surely help you.